If you are experiencing trouble with the dongle or installing the program, please try one or more of the following.
1. Reinstall dongle drivers can fix the problem of being stuck in Demo Mode
a. Download and run the Install program.
http://www.dwgindex.com/GCPFiles/install.exe
b.
Uninstall
first. Click the Uninstall checkbox, and click
Begin Uninstall
Once successfully uninstalled, proceed with c.
c. Reinstall the drivers. The dongle must be removed from the port. Select KEYLOK 2 (USB w/Driver), then press
Begin Install
.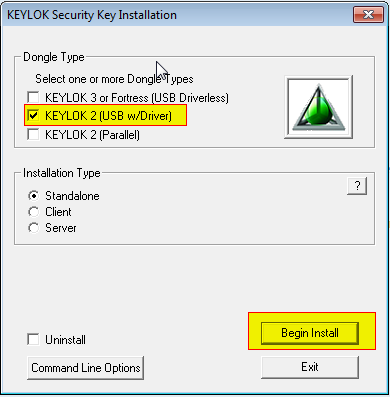 Some other things to try:
* Rebooting your computer often helps get you out of demo mode.
* Changing USB ports sometimes helps. The port my be under powered.
* Installing driver on Windows 8.1 machines. Turning off the UAC before installing the drivers has been known to help. Go to Control Panel > User Accounts > Change User Account Control Settings > slide to Never notify
* Run
\General CADD xx\Utilities\GCP-Remote.exe
. Dongle information saved to clipboard. Paste info into email and send to
contact@generalcadd.com
* See #2 Problems running EXE
2. Problems running EXE and/or getting an 1925 error
a. If during the installation you should receive a 1925 error, claiming you do not have administrative privileges, abort the installation. Then locate the file you downloaded (Ex. GCP111-FULL.exe), right mouse click on the file click on Run As Administrator.
b. Windows 7 & 8 Users Please Note!!
You must have Administrator rights and "User Account Control" (UAC) must be turned OFF (Never notify) before installing. After verifying that the program has been installed, UAC may be turned back ON. This setting is found in the Control Panel>User Accounts>Change User Account Control settings. A reboot is required.
3. V12 users - Help>Update Dongle
This will attempt to activate your dongle via the internet. This procedure is attempted automatically if you come up in Demo mode. There are situations where you need to run this command. For example, when the dongle expiration date is changed or removed, or Surveyor 3D added. You must have an internet connection.
4. V11 (and previous versions) - run GCPLicense to update your dongle after purchasing a new V11 license or changing a timed dongle
http://www.dwgindex.com/GCPFiles/GCPLicense.exe
5. Get latest versions of V11 & V12
http://generalcadd.prophpbb.com/topic7.html
6. Taking screenshots - use the awesome free utility from Greenshot
http://www.dwgindex.com/GCPFiles/Greenshot-INSTALLER-1.1.8.35.exe
* once installed, press PrntScrn key, draw window, send to email, clipboard, or their pretty decent editor. Mark up the screenshot in their editor and then save and send as an attachment to
contact@generalcadd.com
7. Making movies - use the awesome free utility (Jing) from Techsmith
http://www.techsmith.com/jing.html
* sometimes it helpful to make a movie of the problem you are having. Jing allows you to easily make a movie and post it to their site. Then gives you a link that can be sent to
contact@generalcadd.com
8. Printing to PDF
V12 allows you Print/Save/Import directly from within the program
- DP,U, Direct PDF checkbox
- Save As PDF, or /PDF command
V11 (and previous versions) needs a driver to print to PDF
http://www.pdfill.com/freewriter.html
PDFill PDF Writer (my favorite)
http://www.cutepdf.com/products/cutepdf/writer.asp
CutePDF Writer
9. Use Skype to share screen - better than Go To Meeting for most cases
Download skype here:
http://tinyurl.com/bhssgu9
Add contact: matt.brown.gcp.support