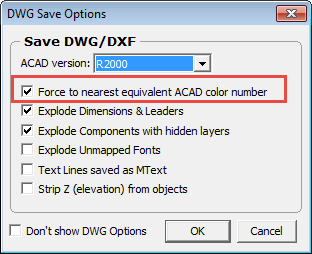 A new Color Mapping option was added to DWG Save (SA,A) DWG Options. When "Force to nearest equivalent ACAD color number" is checked,
the GCP entity's color index will map to the nearest ACAD color index. When unchecked the GCP color is mapped to an RGB color
if an exact match cannot be found, which is most of the time.
If you are using color maps in ACAD, it is a real problem when the entity does not have a color index.
Let me know how this works or if you need more explanation.
Thanks,
Matt